A HISTORY OF THE NEW YORK STATE FIELD BAND CONFERENCE
By Jon Armstrong
The New York State Field Band Conference was formed on February 6, 1972 when interested band directors were asked to remain after a meeting of the Sherburne Pageant of Bands. The purpose of the meeting was to standardize regulations for marching band competitions and to provide useful, constructive feedback for bands from a panel of judges. There were six charter members of the NYSFBC. Those members, and their directors were; West Genesee (Bruce Burritt), Cicero (Bob Codner), North Syracuse (Burt Dunlap), Vestal (Michael Williamson), Norwich (Bill Spang) and Sherburne-Earlville (Frank Miller). Several competitions were held in the fall of 1972 and 1973. During the first two seasons East Syracuse-Minoa, Mynderse Academy, Bath, Canandaigua Academy, Medina, Phoenix, Oxford, Union-Endicott, New Hartford, Liverpool, Oswego, Richfield Springs and Shamokin HS from Pennsylvania joined the charter member bands at competitions.
THE FIRST NYSFBC CHAMPIONSHIP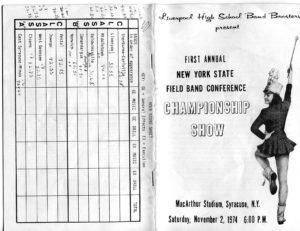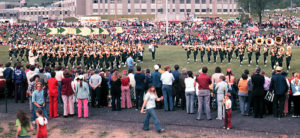 After two successful seasons of the NYSFBC it was decided in the fall of 1974 to hold a championship show. The championship show was designed to be culminating event to the seven competitions held that fall. It was decided to hold the championship at MacArthur Stadium in Syracuse (location of the present P & C Stadium) on the evening of Saturday, November 2nd. Liverpool HS acted as the host band, and tickets for the show cost $2.00. Eleven bands took part in the first championship-Vestal, Oswego, West Genesee, Cicero and East Syracuse-Minoa in class A and Sherburne-Earlville, Liverpool, Middletown, Baldwinsville, Canandaigua Academy and Norwich in class B. Canandaigua Academy pulled off an upset victory in class B over previously undefeated Norwich. West Genesee narrowly grabbed top honors in class A over Cicero. Between four and five thousand spectators attended the championship show.
1975-1979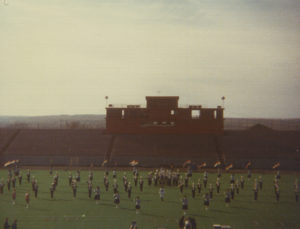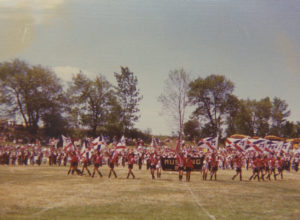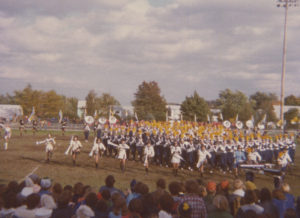 Membership in the NYSFBC grew quickly during the second half of the 70's. Several new bands, such as Chenango Valley, Portville, Holley, Johnson City, Batavia, Jordan-Elbridge, Mexico, Hilton, Eastridge, Auburn and Marcus Whitman joined the conference. The second and third championships were held at Vestal, New York. West Genesee successfully defended the their championship title and Holley emerged as a leader in class B. In 1976 the conference divided bands into three classes-AA, A and B. 1976 also saw the first year that audio recordings were made of the championships. The 1977 championships were held at East Syracuse-Minoa HS and the 78 and 79 championships at Cornell University in Ithaca. Each year the conference and championship show grew in numbers. By 1978 a Novice class, for first year bands, was added. In the late 70's several bands from Pennsylvania actively joined the conference. Early competitors from Pennsylvania included Fairview, Shikellamy, and Girard. Leading bands in class AA during the late 70's included West Genesee, Cicero (who won the 1978 championship), Vestal, Liverpool and North Syracuse. Class A leaders included Canandaigua Academy, Holley, East Syracuse-Minoa and New Hartford. In class B Haverling HS from Bath, Jordan-Elbridge and Marcus Whitman emerged as strong contenders. New bands joining the novice division included LeRoy, Gloversville, Fulton, Groton, Greene, Cassadaga Valley and Palmyra-Macedon. Bands tended to perform very symmetrical drill patterns with the percussion line remaining on or near the 50 yard line and the banner line often staying in the backfield. Many bands used a presentation of the American Flag during their show. Quite a few bands featured baton twirlers or swing flags. Most of the uniforms were made of heavy wool. If you attended a NYSFBC show during the 70's you might have heard these selections; Battle Hymn of the Republic, MacArthur Park, Theme From Rocky, That's Entertainment, Copacabana, Temptation, Moorside March and numerous compositions by Chuck Mangione.
THE EARLY 1980'S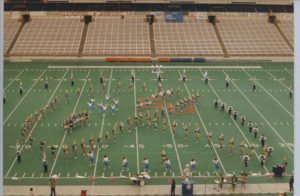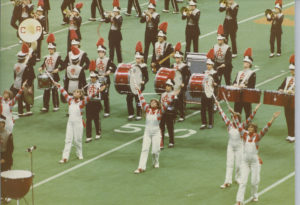 Membership in the conference grew rapidly during the early 80's. By 1980 the NYSFBC Championships included 38 bands. 1980 also marked the first year the NYSFBC Championship show was held at the Carrier Dome in Syracuse. In 1982 the conference reorganized the classifications into an Open Class, Class AA, Class A and Novice. The NYSFBC continued to grow in membership as many bands from western Pennsylvania and Ohio joined the circuit. Some of those bands included; McDowell, Northwestern, Harborcreek, Cathedral Prep., and Academy from the Erie area, Bradford, Keystone and Meadville, Pa. and Harbor HS from Ashtabula, Ohio. Other bands such as Jamestown, Horseheads, Bishop Kearney, Mohawk, Mohonasen, Central Square, Victor, and Aquinas of Rochester entered active competition. Cicero and North Syracuse High Schools merged into one school and began competing as the CNS Northstars in 1982. Leading contenders during the early 80's included; West Genesee, CNS and Liverpool in Open Class, Jordan-Elbridge, Canandaigua Academy, Marcus Whitman, East Syracuse-Minoa and New Hartford in Class AA, Montrose, Pa, Chenango Valley, Clinton, Gloversville and Medina in class A. Bands were moving away from symmetrical drill patterns. Color guards and percussion lines were expanded and became a featured part of shows. Baton corps, pom lines and swing flags started to disappear. If you attended a NYSFBC show during the early 80's you might have heard these selections; Malaguena, Selections From Evita, Come In From The Rain, Music From Cats, Chorale and Shaker Dance, Ice Castles, New York, New York and numerous classical selections by such composers as Shostakovich, Stravinsky, Dvorak and Orff.
1985-1989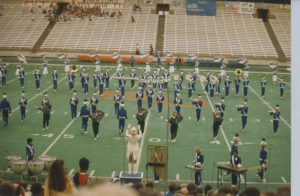 In 1985 the NYSFBC reorganized their classifications into Class AA Open, A Open, AA, A and Novice. That year also saw one of the largest championship shows with 42 bands in attendance. Liverpool won the AA Open title. Jordan-Elbridge took top honors in A Open, Bishop Kearney won class AA, Eastridge won the Class A Championship and Phoenix won the Novice title. Several new bands joined the NYSFBC during the middle and late 80's.. Those bands included, Webster, Southwestern, North Tonawanda, Orchard Park, Wellsville, Falconer and Homer. Bands from western Pennsylvania formed their own circuit and ventured less and less to central New York. However, 1986 marked the first appearance of a competitor from Long Island-Hampton Bays HS, under the direction of Pat Patterson. 1987 was the year that CNS took home top honors in the AA Open category. Rapid paced marching and more demanding color guard work made for some exciting competition. In 1989 the NYSFBC reorganized their classes one more time to include National Class, Class AAA, Class AA and Class A. National Class/AA Open leaders during this era included West Genesee, CNS and Liverpool. Eastridge, Jordan-Elbridge and New Hartford dominated the top places in the A Open Class. Auburn, Webster, Central Square and others were very successful in Class AA competition. Victor, Southwestern and Mohawk often placed near the top of Class A, while Novice Class champions included Phoenix, Falconer and Hilton. Bands were also attempting much more difficult and demanding music. If you attended one of the NYSFBC Championships in the late 80's you might have heard; The Planets by Holst, A young Person's Guide To The Orchestra, Rhapsody In Blue, Variations On A Korean Folk Song, Festive Overture, Carnival Overture and Candide as well as songs from Les Miserables.
THE 1990's
The 1990's brought many new exciting changes to the NYSFBC. Participation from the downstate area increased. Bands from Copiague, Sachem, Mahopac, Tuckahoe, Port Chester, East Ramapo, North Rockland and Deer Park entered competitions. The National Class provided spectators with superb competition from West Genesee, Liverpool, Webster, CNS, Oswego, Jamestown and newcomers Arlington and Norwalk, Connecticut. Class AAAA was added in 1996 with Medina, Eastridge, Horseheads, Union-Endicott, Auburn and New Hartford battling it out for the top spot each year. Jordan-Elbridge, ES-M, Norwich and Orchard Park provided strong competition in Class AAA. AA leaders included Central Square, Phoenix, Southwestern and Baldwinsville. Top finishers during the past several years in Class A have included Johnstown, Marcus Whitman, Wellsville and West Seneca West. New bands, which provided good competition, included Westmoreland, Frewsburg, Johnson City, Northwestern, Pa., Lancaster, Shenendehowa and Binghamton. Other bands such as Victor, Mohawk, Falconer, Homer, Mohonasen, North Tonawanda have continued to delight the spectators year after year. In 1999 the NYSFBC reorganized their classifications to Large Divisions 1, 2 and 3 and Small Divisions 1, 2 and 3. Flashy new uniforms have added touches of sequins. Color guards have increasingly added daring maneuvers and demanding equipment work. Percussion lines have also added much to the overall show. Musical selections played by the bands have varied quite bit over the decade. Modern composers such as Robert W. Smith (Africa, 12 Seconds To The Moon and Dante's Inferno) have provided fresh new music for the audiences. Selections from Broadway shows such as Phantom Of The Opera, Titanic and Miss Saigon have been popular as well. Classical tunes such as Firebird Suite, Russian Christmas Music, Crown Imperial March and old standbys such as Birdland, God Bless The Child and Beatles music have also been heard.
2000-2010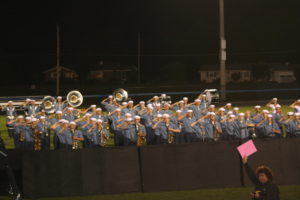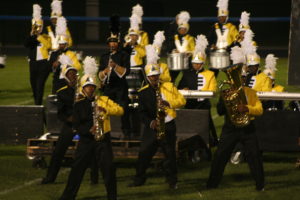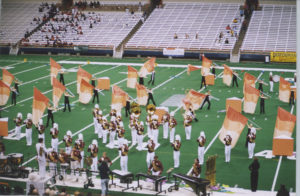 Between 2000 and 2010 membership in the NYSFBC increased dramatically. New members in the conference came from almost every region in the state, with the largest number coming from from Long Island. These new bands have included; Penn Yan, Corning East, Mineola, Roslyn, Hicksville, Malverne, Kingston, Greece, Dansville, CSAT, Lindenhurst, Garden City, Lima Christian School, Division Avenue, Deer Park, Floral Park, Newtown, Connecticut and Midland Park from New Jersey. Other bands such as Bath-Haverling, Leroy, Vestal and Pioneer returned to the conference. Bands winning more than one championship title since 2000 have included West Genesee, Medina, Norwich, Victor, Orchard Park, New Hartford, Central Square, Northwestern, PA, Baldwinsville, Sachem, Brentwood, Copiague, Falconer, Johnson City and LeRoy. Winning at least one title were Arlington, Jamestown, Horseheads, Phoenix, Huntington, Mohonasen, Wellsville, Marcus Whitman, Mineola, and Norwalk, CT. Bands have performed musical selections such as jazz and pop standards, tunes from well known Broadway shows or movies such as Tommy, Gettysburg, Pirates Of The Carribean, Wicked, The Lion King, Shrek, Mary Poppins, Willy Wonka, Cirque du Soliel, Zorro and more. Composers such as Holsinger, Saucedo, Curnow, Whitacre, Katchaturian, Melilo, Gillingham, Tichelli and Bernstein have had their music performed by NYSFBC bands. There have also been theme shows such as "The Art Of Chess" "The Yes Show" "Bach, Rock And Beyond" "The Rock Show" "Urban Dances" "Pearl Harbor" and "The Piano Lesson."
SINCE 2010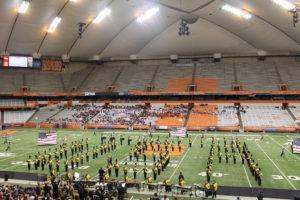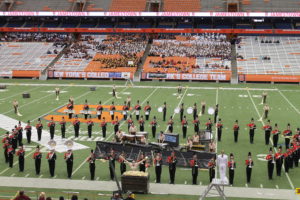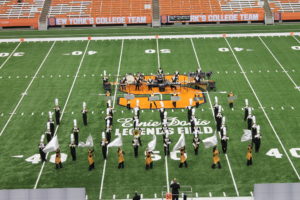 The NYSFBC has continued to grow and evolve along with all of the other marching band circuits in the nation. More difficult and demanding drill, daring maneuvers by the color guard, larger, more elaborate props and the increase in the use of electronics have become more common place. New bands have continued to enter competition and these have included Rome Free Academy, Hornell, Nyack, Schenectady and Suffern. Several bands such as East Ramapo, Floral Park, Hilton, Middletown and Girard, PA have returned to competition. Band that have won more than one title since 2010 include Victor, Medina, West Seneca, Malverne, West Genesee, Lancaster, Westmoreland and Jamestown. Winning at least one championship title are Brentwood, Mohonasen, Baldwinsville, Kingston, Jordan_Elbridge, Marcus Whitman, Corning East, Huntington, Roslyn, New Hartford, Phoenix, Union-Endicott, East Syracuse Minoa and Central Square. Theme shows such as "Interstate 86″ "A Night At The Opera" "Godzilla Eats Las Vegas" "Flash Saves The Universe" Transcontinental Journey" and "Route 66″ have been staged. Shows have built around rock and popular performers such as Queen, Sting, The Beatles and Lorde. Music from current and classic composers such as Key Poulin, Brian Belmages, Steven Reinecke, Gary Gilroy, Igor Stravinsky, Dimitri Shostakovich and George Gershwin have had their music performed as well. And shows built around movies and Broadway shows have continued to be very popular. These have included Harry Potter, Newsies, City of Angels, Les Miserables, James Bond and Star Trek.
CONCLUSION
Since the early 1970's the NYSFBC conference has continued to thrive. It has been the inspiration for similar circuits across the nation. Bands from the NYSFBC have had a long tradition of excellence. Many groups from the conference have been recognized in regional and national competitions. Webster, West Genesee, Liverpool and CNS have been finalists in the Bands of America Grand National Championships many times. Others such as Liverpool, Oswego, Jordan-Elbridge, West Seneca, Lancaster, Victor and Orchard Park have placed well among finalists at BOA regional competitions. Bands such as Webster, Baldwinsville, Lancaster, Jamestown, Central Square, Copiague, Union-Endicott, Johnson City have been invited to various bowl game parade and field contests. Throughout the history of the NYSFBC Canandaigua Academy, Cicero, New Hartford, ES-M, Auburn, Medina, Vestal, Norwich, Sherburne-Earlville, North Syracuse and many others have brought home numerous awards and championship titles from out of state contests.